Welcome
Our mission is to provide best in-class information and capabilities for frequent flyers. We offer charts and tools to help frequent flyers
understand air fare codes, upgrade priority, airline miles calculations, airline routes, and more.
Fare Code Charts


Airline fare codes are a way for airlines to differentiate between class of service, cost of ticket, award ticket, etc. and they differ greatly among each airline.

Airline Resources


Various tools and calculators. You can find out things like airlines that operate between airports or your Medallion Priority upgrade status.
Or figure out how many miles you will earn on a given route and fare class.

All Airlines
Delta Airlines

SODA - Seats Open on Delta Airlines (SODA) View available first class and coach seats for a flight.
MUPC - Delta Airlines Medallion Upgrade Priority Calculator (MUPC) shows your upgrade priority based on your status and fare code.
SkyCalc - Calculates your Delta Skymiles, Bonus Miles, MQM, and MQS based on your status and fare class for your flights.

United Airlines

General Tools


Data for airports, airlines, and maintenance classification.
Our Latest Blog Posts @cwsi.net/fly
Other Frequent Flier Resources
Sites which I actively use and highly recommend.
Non Frequent Flier Tools and Links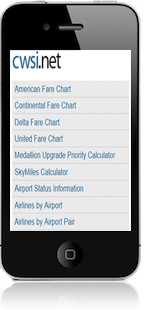 This site has absolutely no affiliation with any companies named on this website. There is no guarantee that the information is complete and accurate. There is no warranty of this information either explicitly or implied.